In this edition of Iconic Innovations we're shining a spotlight on the fascinating story of Boots in New Zealand. Our Wellington, New Zealand store opened in 1936 and was the first overseas branch opened by Boots.
Boots first began to make overseas sales in 1919 through an agent in India, who worked on a commission basis selling a limited number of packed goods lines. The service proved successful, and by 1924 had expanded to include agents in Singapore, Columbo, Rangoon, Bombay and Madras.
Keen to extend international operations further, Boots began to investigate the possibility of opening physical stores abroad for the first time. Strong opposition to foreign and multiple pharmacies limited opportunities in Europe, so Chairman John Boot began to look further afield for countries in which the Boots brand could be introduced.
After careful consideration he sent out a small working party to New Zealand to examine the prospect of developing a chain of chemists in the southern hemisphere and, following a favourable report, decided to open Boots' first overseas store there in the capital, Wellington, on 29 January 1936. 
Wellington, New Zealand Store, 1936
The store opened on the main street in Wellington and proved immediately popular with residents. In its first six months of trading it served over 117,000 customers and dispensed over 13,000 prescriptions, as well as setting up a successful mail order business for medicines and general merchandise.
As a result of the immediate success of the Wellington store, a second branch was opened just a few months later in Auckland. On the opening day the new store served over 2,800 customers, and huge numbers of people gathered to see what Boots new international business had to offer. The excitement was such that at one point the crowds of people trying to get inside were that large that a policeman had to intervene to ensure nobody was injured.
Just over a year later, in 1937, Boots served its millionth New Zealand customer, demonstrating the clear popularity of the Boots brand with the local population. As a thank you, any customer who visited either of the two Boots stores on 2 September 1937 was presented with a gift of toothpaste. 
Wellington, New Zealand Chemist Department, 1936
Despite the popularity with the New Zealand public, the Wellington and Auckland stores did experience some opposition from the chemists already established there. Concern over unemployment for native New Zealanders was one of the biggest issues raised, but to allay this fear Boots took an enlightened approach and promised to recruit and train local staff, and to provide them with opportunities to visit the United Kingdom and Boots headquarters.
In response to the positive actions taken by Boots, the New Zealand Minister for Industries and Commerce, Mr Sullivan, claimed that it was recognised on all sides that [Boots] were a good firm, exemplary employers, and were providing an excellent service to the public at economic prices.
When questioned why New Zealand was chosen for Boots first overseas store, John Boot claimed: "I believed that we had something tangible to offer to the New Zealand public, and, indeed, although I am not going to pretend that our company is a philanthropic body, if profit were our sole, or even our principal motive, there would have been no question of our developing our business so far away from our headquarters.
"We are proud of the great health and domestic service that we have built up, and we believe that we can extend that service gradually… and make the benefits of our methods and our organisation accessible… overseas." 
Wellington, New Zealand staff, 1936
Boots expansion in New Zealand continued throughout the 1950s and 1960s with stores opening in Auckland, Hamilton, Lower Hutt, Christchurch, Wanganui, Invercargill and Porirua. However, despite the popularity of Boots in New Zealand, a new Pharmacy Act was passed in 1970 which made it difficult for multiple chains to open new stores, which severely limited the opportunities to expand the business further. 
By 1990 Boots had 16 retail outlets and a successful industrial division across both the North and South islands, but the changes in law had limited growth in such a way that Boots announced that it was to sell its retail operations there.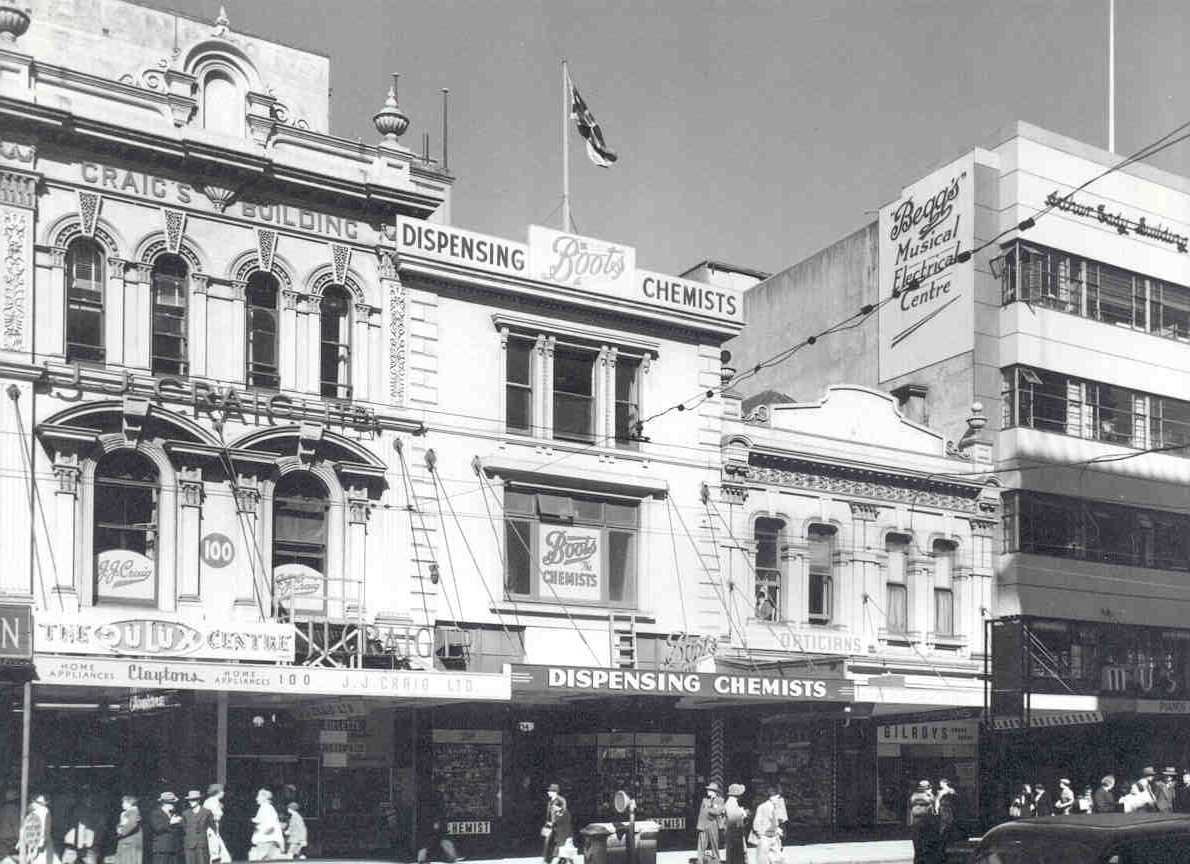 Auckland, New Zealand store, c. 1950
In total, trading in New Zealand lasted for 54 years, making it the longest running of Boots international businesses to date. Throughout this time Boots had a significant impact upon the pharmacy trade in New Zealand helping to raise professional standards and train local pharmacists, and at its peak could proudly claim to have trained more pharmacists than any other organisation in New Zealand.