With Christmas Day fast approaching, Boots has a number of options to help customers snap up their last minute Christmas gifts. Look out for:
Deliveroo:1  Use the Deliveroo app on the App Store or Google Play Store to order from an extensive selection of Boots Christmas gifts. The service is available in 125 stores across the UK in selected regions. Customers can order on Deliveroo up until Christmas Eve and receive their order in as little as 20 minutes, making Christmas gift deliveries just as fast as ordering a takeaway!
Boots Click & Collect:2

 

Place an order online at boots.com before 22 December and then collect from your local store before Christmas. Available in over 1,600 stores, the service is free for all orders over £15.

E-Gift Cards: If you need a quick and easy gift idea, Boots is excited to reveal that you can now buy e-gift cards online at boots.com and receive the gift card immediately via email. Boots gift cards are also available to purchase in stores and are the perfect gift for Christmas.
Head to the High Street: Boots has thousands of stores open on Christmas Eve with lots of choice at great prices. Whether you are looking for gift sets, fragrance, skincare or make up, Boots has amazing offers available right up to Christmas Eve. Customers can find their local store opening hours on the boots.com store finder.
Here are some last minute gift ideas all available to order through Deliveroo, on boots.com or the Click & Collect service!3

Soap & Glory Double The Clean Cleansing Duo 2 Piece Gift Set
£14
Ted Baker Bathing Collection 6-Piece Gift Set
£25
No7 Limited Edition Beauty Vault
£50
from £10 (can be purchased on boots.com only)
Ted Baker Men's Toiletry Bag 3-Piece Gift Set
£24
£8.50
£8.50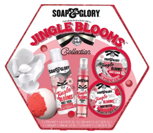 Soap & Glory Jingle Blooms Limited Edition 5-Piece Collection
£18
Ted Baker Miniatures Collection 4-Piece Gift Set
£12.50
Soap & Glory Tray Dream Bath Shelf Gift Set
£25
£20
No7 Limited Edition Ultimate Makeup Brush 5 Piece Collection
£25
1 Available at selected stores, not all products will be available through this service. Provider delivery fee applies.
2 T&Cs apply, order before 8pm, nearest available collection date shown at checkout. Last order dates could be subject to change as we monitor daily.
4 Stock may vary, check with your local Boots store.