As a new season and longer days are finally here, Boots Chief Pharmacist Marc Donovan offers tips on how to get a spring in your step
Lack of sleep and vital vitamins B12, iron and magnesium can make you feel tired and sluggish
Boots offers 3 for 2 on selected vitamins, supplements, health foods and complementary medicines – cheapest free
Now that spring has finally arrived, we can finally look forward to the prospect of lighter mornings, longer days and warmer weather. In response, Boots Chief Pharmacist Marc Donovan offers expert advice on how to re-energise to make the most of the new season.
Getting enough sleep, staying hydrated and eating a healthy balanced diet is essential to help keep energy levels up and you may want to consider taking a multivitamin and mineral supplement, such as B12, iron and magnesium, if you feel you're lacking these nutrients from your diet, says Marc.
Ensure you are getting a good night's sleep
"Sleep is the best way the body restores itself, so it's important to practice good sleep habits. Make sure you are getting between six to nine hours sleep a night, and most importantly stick to regular sleeping hours to get the body used to a set routine.
"Reduce screen time before bed and avoid using phones or other electronic devices at least one hour before bedtime. This can help the body to prepare for quality rest and help you to wake up rested and refreshed for the day ahead.
"If you have trouble getting to sleep, you can try a warm bath, pillow spray or a calming diffuser to help prepare you for a good night's sleep. If you are experiencing temporary sleep disturbance, our pharmacists in store can advise on medication that can be taken short-term to help with this, if appropriate for you."
Consider adding energy vitamins and supplements to your daily routine
"Eating a balanced healthy diet is key to maintaining energy levels and staying healthy. Taking vitamins and supplements are a good way to assist energy release and reduce fatigue, if you feel you are not getting the right nutrients from your diet.
"Supplements and vitamins such as B12, iron and magnesium can all help to reduce tiredness and fatigue. Vitamin B12 can be found in fish, dairy products, red meat and eggs, which is why vegetarians and vegans, in particular, may want to consider taking a B12 supplement."
Keep moving
"Regular exercise can help boost your energy and mood by releasing endorphins as well as improving circulation and help set up the body and brain for the day's challenges.
"A simple 15-minute walk can help to give you an instant energy boost and can help contribute towards the recommended 150 minutes of moderate intensity activity per week."
Stay hydrated
"People can often get dehydrated when they don't drink enough fluid or by losing body fluids and not replacing them, which can contribute towards fatigue, headaches, and low energy.
"Practice good hydration by drinking at least eight glasses of water a day. This can be in the form of plain water, sparkling water, sugar-free diluted squash, plain tea, fruit tea or coffee without sugar."
Let the light in
"When you go to sleep at night, pull your blinds or curtains halfway up to let the natural sunlight stream into your room. The cycle of the sun has a powerful effect on the circadian clock* or our body clock, sleep and alertness.
"When you wake due to natural sunlight, your body will be more alert and can help to elevate your mood and wake up feeling refreshed.
"You could also use a wake-up alarm clock, which emits light for about 30 minutes before you want to wake up, allowing less of a startle when waking."
A selection of products available at Boots to aid sleep and help to feel energised include:
Aguulp for Energy Liquid Liposomal Supplement
£11.99
Boots B12 250ug Blackcurrant spray  £8.50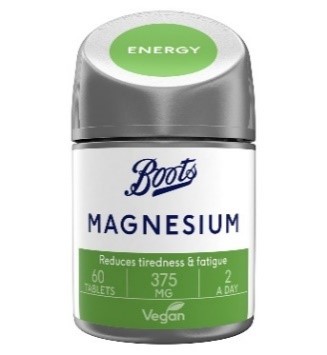 Boots Magnesium 375mg 60 tablets  
£6.50
Berocca Orange Energy Vitamin Tablets
£5.00
£5.79
Kalms Night Valerian Root Extract
£4.50
Botanics Pillow Mist Lavender & Sweet Marjoram
£7.00
£39.99
To note, the Boots Chief Pharmacist is not endorsing any of the named products above