Hacks include 

ways to 

avoid exposure to pollen and 

how to manage symptoms with over the counter products

 

Boots pharmacy team members at over 2,000 stores can help patients find solutions that work for them

 
This season, 

hay fever 

relief product Allevia

, 

which contains

 120

mg of

 fexofenadine

, 

is 

available to buy over the counter 

for the first time without a prescription

 
To those who suffer from hay fever and want to be prepared for the upcoming high pollen count, Boots Chief Pharmacist Marc Donovan says that treatment for hay fever is based on two principles: avoiding exposure to pollen and decreasing histamine levels in the body by using medicines.  
He shares his top hay fever hacks to help keep symptoms at bay: 
Check the pollen forecast  
"When the pollen count is high, it's likely allergies will be worse at this time. It's therefore important to keep an eye on the Met Office website daily to monitor the pollen count so you can act fast if needed." 
"If you are going out for the day or staying inside your home, ensure windows in your car and house are closed to minimise pollen exposure on days when the count is high." 
"Around midday is a time where pollen count is usually at its lowest, so take this opportunity to get outside for some fresh air. There are lots of other health benefits of getting outside for a walk or gentle exercise, too."  
Be mindful about transferring pollen 
"Change your clothes as soon as you come indoors. It's best to take a shower and wash your hair  too, as pollen is difficult to remove unless it's wet." 
"Apply a barrier balm of petroleum jelly, like Vaseline, around your nose to trap pollen." 
Consider buying an air purifier 
"A purifier in the home is a great way to clean the air and if you move it to the bedroom at night it can filter out allergens and pollutants such as dust and pollen from your bedroom." 
Find the products or medication that work for you 
"There are a range of hay fever relief products available – from tablets to nasal sprays – you can always speak to your pharmacist to find which products are suitable for you. If over the counter remedies are not proving effective, speak to your GP or consider visiting our Boots Online Doctor, which offers a Hayfever Treatment service." 
Know the difference between COVID-19 and hay fever symptoms  
"Typical hay fever symptoms include sneezing, a runny or blocked nose, itchy red watery eyes or an itchy throat, mouth, nose and ears. The most common symptoms of COVID-19 include a high temperature and/or a new continuous cough. Sneezing is not a symptom of COVID-19, and it's rare to have itchy, watery eyes or an itchy throat, and hay fever doesn't cause a high temperature. Ensure you're clued up on the additional nine new COVID-19 symptoms to help you differentiate. You can find a full list of COVID-19 symptoms on the NHS website." 
Boots offers a range of hay fever relief products online and in-store, including Allevia which contains 120mg fexofenadine and is now available for sale without a prescription over-the-counter. Boots also offers a selection of children-friendly hay fever treatments such as syrups and nasal sprays. If over the counter remedies are not proving effective, patients can speak to their GP or consider visiting the Boots Online Doctor, which offers a Hayfever Treatment service.1  
New and popular products at Boots to treat allergies include:2   
£9.99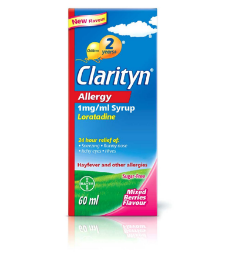 £9.99 
£8.39 
£4.99 
Hay fever affects 26% of adults and 10-15% of children in the UK and is a common allergy that occurs mainly in spring and summer.3 It is an allergic reaction to pollen produced by trees and grasses, causing inflammation of the lining of the nose. The allergic reaction is driven by histamine, a chemical produced by the body and symptoms can include sneezing, a runny nose and itchy eyes. 
Pollen is a fine dust that disperses in the wind to reach other plants for pollination and start new plants. Tree pollen counts are highest between late March and mid-May, while grass and weed pollen counts are highest between mid-May and September. You're most likely to get symptoms when the pollen count is high.  
*Always read the label.  
[1]Access to prescription only medicine is subject to a consultation with a clinician to assess suitability. Charges apply. 
[2]The Chief Pharmacist does not endorse any of these products.
[3]Allergy UK, March 2022.