At-home PCR self-test is available online and in selected stores, competitively priced at £65
Boots In-Store COVID-19 PCR Testing Service now £99
Boots to become an accredited test provider for the government's test to release scheme 
Boots UK is expanding its private COVID-19 asymptomatic testing services as English holidaymakers prepare for a summer break abroad from 17 May at the earliest.
The UK's leading health and beauty retailer has launched an at-home PCR self-test – offered by MyHealthChecked – that can be purchased on boots.com and delivered to customers' homes the next day.* The test, which is also available at over 500 Boots stores, is priced at £65. Boots Advantage Card holders can purchase it using their points or earn points to spend on other items at Boots. 
Boots also offers an In-Store COVID-19 PCR Testing Service (£99), which is now available at over 200 stores in the UK and offers results within 48 hours. Its In-store COVID-19 Rapid Antigen Testing Service (£79.99) provides results on the same day and is offered at over 15 stores. 
All three private Boots tests can be used as a private pre-flight testing service, depending on the specific requirements of the destination country and airline, for customers who require a negative COVID-19 certificate before travelling abroad.** 
Boots is also now an accredited test provider for the government's Test to Release scheme, offering next day results for those wishing to reduce their home quarantine by taking a voluntary test on the fifth day after arriving in England from a country not on the 'red list'. Later this month, Boots will become an accredited test provider for day 2 and day 8 testing for international arrivals, offering at-home PCR self-test kits with results typically within 48 hours from receipt of the sample at the laboratory.
Asif Aziz, Director of Healthcare Services atBoots UK, said: "Now that holidaymakers can start planning a summer holiday abroad, we look forward to helping them stay safe when travelling. With a negative COVID-19 test result becoming the norm for international travel, we have increased our testing services to make them even more accessible for customers. Regular testing is also really important for everyone as we move out of lockdown, which is why we are proudly supporting the government to offer free, rapid tests at our pharmacies in England through the Pharmacy Collect scheme."
In addition to its private testing services, Boots now also offers free, rapid lateral flow tests (LFTs) at over 1,700 pharmacies in England as part of the government's new Pharmacy Collect service, with more to come. As part of this scheme, people without symptoms will be able to visit their local Boots pharmacy and collect a box of seven rapid LFTs to use twice a week at home.***
To help customers understand the key differences between each of the tests it currently offers and to assist in selecting the right one for them, Boots has published a handy guide on its website and social media channels and created a video with tips from Bina Mehta, Lead Pharmacist at Boots in London Piccadilly.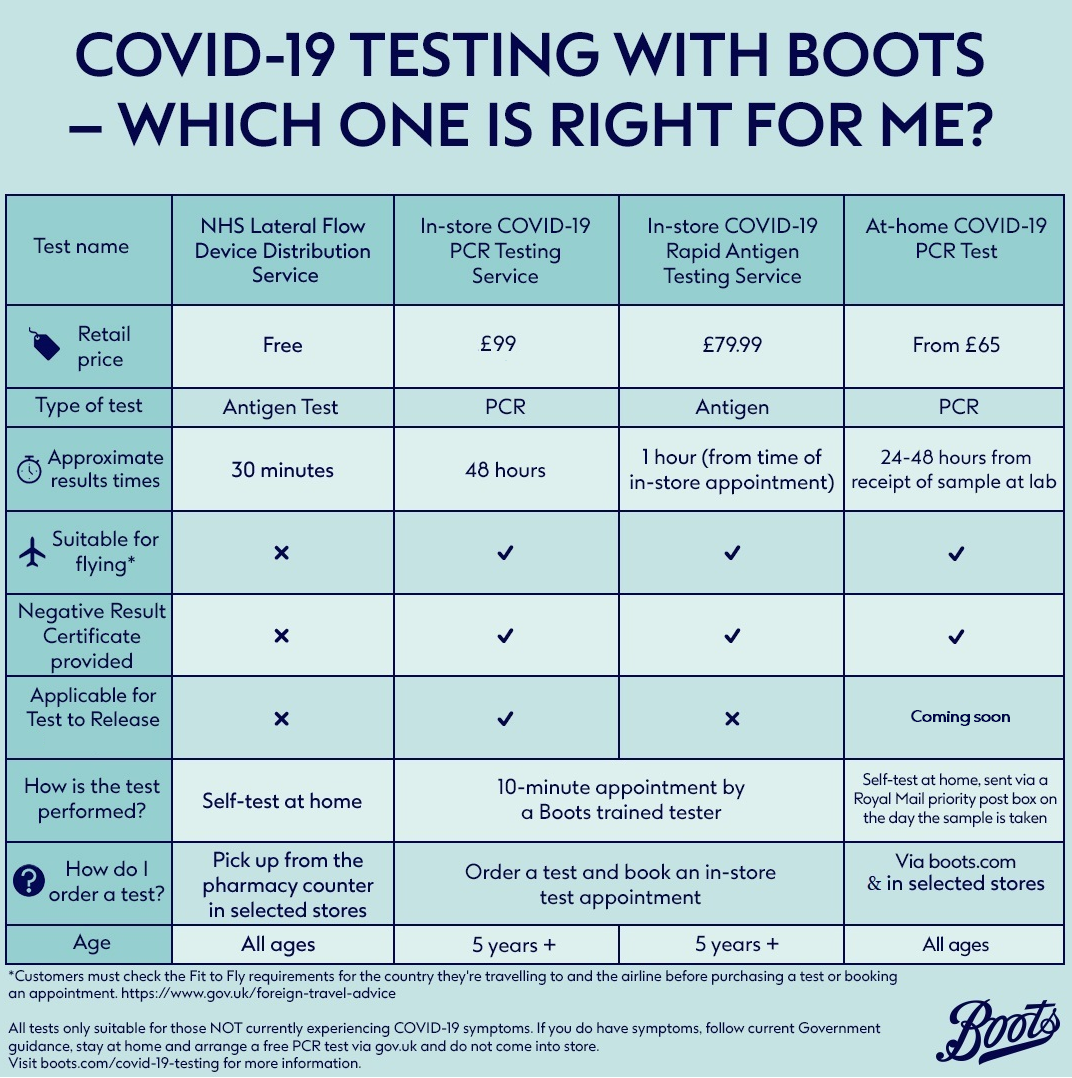 For further information on testing services, visit boots.com/covid-19-testing.
*Excludes Northern Ireland. Next day delivery must be selected at check-out. Terms and conditions apply. 
**Specific COVID-19 test requirements may vary depending on the destination and airline and this should be checked at gov.uk/foreign-travel-advice prior to travel by the traveller(s). 
***Subject to stock availability. To find out which Boots pharmacies are offering the Pharmacy Collect service visitmaps.test-and-trace.nhs.uk.