Boots skin:edit has been formulated to target the visible skin changes experienced during perimenopause and menopause
The exclusive own-brand range includes eight accessibly priced skincare products starting at £9.99
All products have been tried and tested on women who are currently experiencing perimenopause or menopause
The launch is the latest initiative from Boots to empower those customers experiencing the menopause
With an estimated 13 million women who are currently perimenopausal or menopausal in the UK1, Boots is on a mission to break taboos associated with the menopause. The latest initiative from the UK's leading health and beauty retailer is the launch of a brand-new skincare range, formulated specifically to target the visible skin changes experienced during perimenopause and menopause.
With menopause-related products and advice pages viewed once every 45 seconds on boots.com2, Boots is empowering customers during the menopause through health services, wellbeing advice and beauty solutions. Due to changes in hormone levels as early as perimenopause, skin can become dull, dry, sensitive and can experience a loss of elasticity and uneven skin tone. Boots own-brand skin:edit range includes eight skincare products to target the visible changes to the skin, including a cleanser, eye cream, facial cream with SPF and night cream. Products have been carefully formulated to provide solutions for those who find the skincare they've been using for years no longer serves their needs.
At a time when cost-of-living pressures are continuing to rise, Boots skin:edit range starts from £9.99 to ensure that all customers experiencing symptoms of the menopause can access affordable, efficacious skincare.  Products have been developed so they can be easily added into customers' existing regimes with targeted solutions for their skin's changing needs. Boots own-brand range is now bigger than ever with over 11,000 products across health and beauty starting from as little as 40p.
Jenna Whittingham-Ward, Head of Beauty for Boots Brands & Exclusives says: "Entering the menopause comes with its challenges, and the visible changes to skin because of hormonal changes is one that is often overlooked but can have a huge impact on your confidence. Boots skin:edit range has been specifically formulated to target these skin changes, with all products tested and user-trialled on real women experiencing the menopause or perimenopause. It was important to us that the range was designed with accessibility in mind, so the whole collection is affordably priced from as little as £9.99."  
With Boots pharmacy heritage and beauty expertise, the leading high-street retailer is uniquely placed to answer customer's needs before, during and after the menopause. It offers a wide range of products and treatment options to customers including:
Boots.com

: Through a dedicated menopause webpage on

boots.com

, Boots offers an extensive range of products and advice to support over 40 signs and symptoms of the menopause and perimenopause.

Boots pharmacists

: Boots pharmacists continue to offer health and wellbeing advice to support those experiencing menopause symptoms. They can also help patients to understand

Hormone Replacement Treatment (

HRT) or other medicines that might be prescribed for them.

Boots Online Doctor: Through its Boots Online Doctor service, Boots offers access to advice and menopause treatment via an online consultation which is reviewed by a clinician who will provide advice and HRT treatment if appropriate3.
From April 2022, Boots also announced it will cover NHS prescriptions costs for HRT for its team members in England. Last month, Boots was independently accredited as a Menopause Friendly Employer - the first health and beauty organisation to achieve this status.
The skin:edit range is widely available across the UK in 600 Boots stores and online at boots.com from 1 August. With Click and Collect available at over 1,600 Boots stores across the UK, customers can order online and collect skin:edit in their local store from the very next day4.
Boots Skin Edit Cleansing Butter 50ml £9.99
Cleanses the skin and removes make up while leaving the skin feeling soft, moisturised and looking hydrated
Boots Skin Edit Moisturising Eye Cream 15ml £12.99
Helps moisturise and hydrate the skin, whilst reducing the appearance of puffiness around the eye area.
Boots Skin Edit Nourishing Night Cream 50ml £12.99
Helps the skin regain moisture and leaves the skin feeling nourished and smoother whilst protecting against dryness.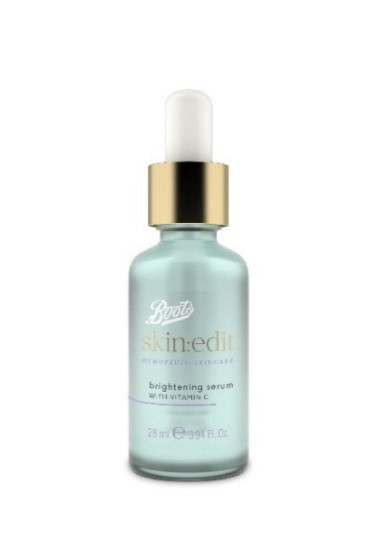 Boots Skin Edit Brightening Serum with Vitamin C 28ml £12.99
Fast- absorbing serum helps to brightens dull-looking skin.
Boots Skin Edit Massage Stick 30g £9.99
Feels cool on the skin whilst leaving skin hydrated, feeling soothed, moisturised and nourished.
Boots Skin Edit Blemish Control Serum 28ml £12.99
Exfoliates skin to help reduce the appearance of blemishes, leaving the skin looking clearer and balanced.
Boots Skin Edit SPF40 Facial Sun Cream 50m £12.99
Helps to protect the skin from harmful UVA and UVB rays, whilst leaving the skin looking brighter and smoother.
Boots Skin Edit Hydrating Cooling Mist with Hyaluronic Acid 30ml £9.99
Cools the skin whilst boosting hydration, leaving skin feeling refreshed and moisturised.
1Menopause at work | Royal College of Nursing (rcn.org.uk)
2 boots.com, 1 Jan – 29 June 2022
3 Subject to availability. Charges apply.
4 The Click & Collect service is free for orders of £15 or more, or £1.50 if you spend less. This service is available Monday to Saturday in selected stores. This service excludes the Scottish Highlands or Islands, Jersey, Guernsey, Northern Ireland, the Isle of Man and airport stores. See boots.com for details.
·       Boots skin:edit has been formulated to target the visible skin changes experienced during perimenopause and menopause
·       The exclusive own-brand range includes eight accessibly priced skincare products starting at £9.99
·       All products have been tried and tested on women who are currently experiencing perimenopause or menopause 
·       The launch is the latest initiative from Boots to empower those customers experiencing the menopause