Get ready, get set and go!  Summer is here and Boots UK is on hand to help you look and feel gorgeous, whilst ensuring you (and your loved ones) are protected from top to toe!  From the 09 July to 05 August Boots UK has half price on 1000s of products* so you can get everything you need to enjoy those long summer months all at great value.
Polarised Ladies' Classic Gold Aviator Sunglasses available for half price
Just £16.50 (was £33.00)

These fabulously stylish Classic Gold Aviator Sunglasses feature smoke polarised lenses to help reduce surface glare and provide 100% UVA and UVB protection.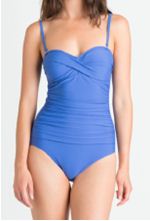 Bandeau Swimsuit available for half price
Just £14.00 (was £28)

Look stylish for less!  This blue swimsuit will ensure you feel your absolute best, with flattering ruching and delicate straps you will be ready to strut your stuff along the sea front.
 
 
 




Boots Men's Black Wayfarer Sunglasses with Blue Arms available for half price
Just £8.00 (was £16.00)

Totally on trend and perfect for the festival season or everyday wear during the summer months, these Men's Black Wayfarer Sunglasses offer 100% UVA and UVB protection.
 

 



FCUK Urban Hair and Body Wash 300ml available for half price
Just £2.00 (was £4.00)

Save half price on the FCUK men's range including the invigorating FCUK Hair and Body Wash Urban with a touch of citrus herbal and amber musk.  Perfect for the man who wants to smell good this summer.

 




FCUK Urban Anti-Perspirant Deodorant 200ml available for half price
Just £1.87 (was 3.75)

FCUK Urban Anti-Perspirant Deodorant gives 48 hour protection to keep him smelling fresh all summer long.  

 
Selected Soltan ranges available for half price including:

 
Soltan Once Kids 8 Hour Play Hypo-allergenic Suncare Lotion SPF 50 200ml 
Just £8.00 (was £16.00)
 
There is no need to pause the picnic to re-apply your suncream if you choose Boots Soltan Once providing long lasting, 5* UVA protection for up to eight hours.
 
 
Soltan Protect & Tan Ultra-Light Texture Suncare Spray SPF8 200ml
Just £7.00 (was £14.00)
 
Soltan Protect & Tan Spray supports the skin's natural tanning with an ultra-light water resistant formulation.  It helps stimulate your body's natural tanning production and includes 5 Star UVA Protection.


Soltan Adult Dry Touch Spray SPF30 200ml
Just £5.50 (was £11.00)
 
Soltan Dry Touch is ultra-light, non-sticky, sand resistant and dries in less than 60 seconds.  Available as a lotion (SPF 30 & 50+) and spray (SPF 15 & 30) offering the maximum 5* UVA protection.


Soltan In-Shower After Sun Cooling Lotion with Cucumber available for half price
Just £3.25 (was £6.50)

This cooling in-shower after sun will leave your skin feeling soft and moisturised for up to 11 hours.  With extract of cucumber and Aloe Vera to help cool and soothe.
 



 
 
ENDS For further information, samples or images, please contact the Boots UK press office:020 7025 6657/

bootssummerteam@redconsultancy.com
Notes to editors:
 
* Half price on men's, washing and bathing, deodorants, feminine care, tissues, mass hair, dental, sun shop, and depilatories. Offer excludes premium counter skincare, electrical, razors, blades & shaving preps. Exclusions apply. Full range in larger stores. Subject to availability. Order online or instore by 2pm and pick up instore the next day from 2pm. Normal Boots Advantage Card terms and conditions apply. See application form for details.
 

About Boots
 
Alliance Boots is a leading international pharmacy-led health and beauty group delivering a range of
products and services to customers. Working in close partnership with manufacturers and pharmacists, we are committed to improving health in the local communities we serve and helping our customers and patients to look and feel their best. Our focus is on growing our two core business activities of: pharmacy-led health and beauty retailing and pharmaceutical wholesaling and distribution, while increasingly developing and internationalising our product brands.
 
Alliance Boots has a presence in more than 25* countries and employs over 108,000* people. We have pharmacy-led health and beauty retail businesses in nine countries and operate more than 3,150 health and beauty retail stores, of which just under 3,050 have a pharmacy, with a fast growing online presence. In addition, Boots Opticians is one of the leaders in the UK optical market with around 600 practices, of which around 180 operate on a franchise basis, and we have a leading position in the UK hearingcare market through our associate, Boots Hearingcare, which operates in around 430 locations across the UK. Our pharmaceutical wholesale businesses supply medicines, other healthcare products and related services to more than 180,000 pharmacies, doctors, health centres and hospitals from more than 370 distribution centres in 20 countries. In June 2012, Alliance Boots announced that it had entered into a strategic partnership with Walgreen Co., the largest drugstore chain in the US, to create the first global pharmacy-led, health and wellbeing enterprise.
 
* Figures are approximations as at 31 March 2014 and include associates and joint ventures.