Use the new No7Men Energising Face, Beard & Stubble Moisturiser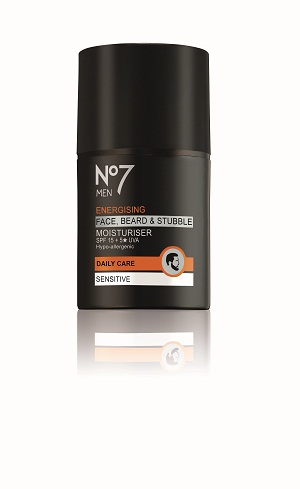 As part of the popular No7 Men Energising Range, No7 is launching the new No7 Men Energising Face, Beard & Stubble Moisturiser SPF 15 (£10.50) tohelp men care for their face and beard effectively at the same time.
Our experts in men's skincare have engineered the moisturiser to soften facial hair and stubble whilst also fighting skin dryness, making the face all the more irresistible to touch!
The lightweight and easily absorbed moisturiser is made with a patented anti-oxidant technology consisting of herbal extract Ginseng, Mulberry concentrate and Vitamin C to protect skin from free radicals and promote skin regeneration.
Shea Butter is included to condition the skin and to help reduce any inflammation, often caused by stubble. What's more, whilst providing 24 hour hydration, the product leaves your skin looking and feeling energised, healthy and refreshed.
No7 Men Energising Face, Beard & Stubble Moisturiser SPF15 (£10.50) launches in store and on Boots.com on 20 January
-ENDS-
Notes to editors
About No7
No7 is the UK's leading skincare brand, available exclusively at Boots. The ambition of No7's brand campaign is to allow women to tell their story through their own voice, and encourage other women to experience it too. It is a real celebration of British beauty, inspiring women to experience their 'Ta Dah!' moment. With no air-brushing or re-touching, the campaign shows the range of positive looks and emotions women can experience.
The No7 team continues to invest in ground-breaking research and development and our international team are responding to the ever changing needs of its millions of customers every day. From No7's range of clinically proven anti-ageing serums, to the breakthrough No7 Match Made Service, No7 customers believe in the power of our products as much as we do. 
About Boots UK
Boots UK (boots.com), the UK's leading pharmacy-led health and beauty retailer, is part of the Retail Pharmacy International Division of Walgreens Boots Alliance, Inc. (Nasdaq: WBA), the first global pharmacy-led, health and wellbeing enterprise.  With 2,510* stores in the UK, Boots UK is committed to providing exceptional customer and patient care, be the first choice for pharmacy and healthcare and offer innovative 'only at Boots' exclusive products such as the UK's leading skincare brand No7, all delivered with the great value customers love. Created over 165 years ago, the Boots brand is still at the heart of the communities it serves.
*As at 31 August 2015 excluding equity method investments