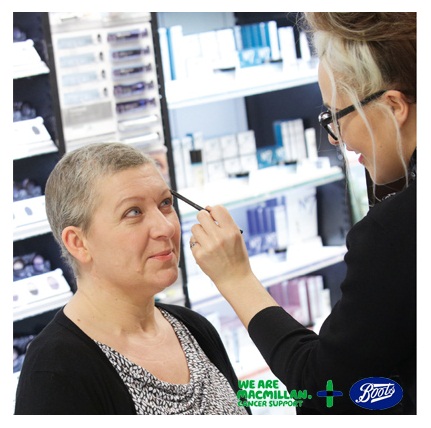 Boots UK and Macmillan Cancer Support believe every woman has the right to feel good about themselves, this is why from
10 September 2013 Boots Macmillan Beauty Advisors
will be introduced in to selected Boots stores* across the UK, making it the first retailer to offer this unique role on the high-street.
A poll by Macmillan Cancer Support showed 81%
[i]
feel the physical side-effects of their treatment have negatively affected their self esteem and despite this, 64%
i
are unsure of how to disguise them and 73% would welcome beauty advice from a local trained advisor
i
. 
In response to this, No7 advisors have been specially trained** to offer advice and support to help people affected by cancer to manage the visible side-effects of their treatment, via a tailored and personalised service developed by Boots UK and Macmillan Cancer Support.  This support aims to help women undergoing cancer treatment to feel more like themselves again at a time when they need it most, with a discrete one-to-one consultation.
"It goes without saying that this can be a difficult time and that small things for some can make a difference. We hope our beauty advisors can provide women with much needed support and can, in some small way, help them to feel positive." Elizabeth Fagan, Boots UK, Marketing Director.
Boots Macmillan Beauty Advisors have completed an in-depth training programme enabling them to advise customers on the best products*** for their needs, and demonstrate how to apply cosmetic techniques to minimise these visible side-effects.  Their training means they are able to offer other important advice on the side effects of cancer treatment such as the loss of eyebrows and eyelashes, deeper wrinkles, dry or sensitive skin and brittle nails. They can also offer important advice on sun protection, and the appearance of hair loss and hold sensitive conversations to ensure women do not feel intimidated. 
Karen White, Boots Macmillan Beauty Advisor, Boots store Northwich, has completed the training;"By offering advice and support to help people affected by cancer to feel more positive about their appearance, they can get a little bit of themselves back.  The training with Macmillan has been invaluable in helping me respond to and meet the individual needs of those affected by cancer." 
Jeni underwent treatment for breast cancer and explains how she would have benefitted from seeing a Boots Macmillan Beauty Advisor, "It is a shame that during the time I was undergoing treatment, the Boots Macmillan Beauty Advisor role was not yet available as I would have definitely benefitted from seeing them. I would have felt more like myself, just popping into a high-street store and asking for some advice and a chat, but also knowing that because of their training, I would get a sensitive and reliable answer. It is great that they are now in stores to make a huge difference to women like me." 
The introduction of the new role in-store complements the launch of
Boots Macmillan Information Pharmacists
last year, which as a result of the Boots Macmillan partnership, Boots UK is now the only high-street destination to offer a more holistic cancer support service. This means customers can access beauty advice, alongside support on medication and the associated side effects from qualified pharmacists, under one roof with advice from people they can trust.  
Boots UK is encouraging people to talk to their local Boots Macmillan Beauty Advisor, pick up a leaflet in-store, access the information on boots.com/cancer or Macmillan.org.co.uk/visiblesideeffects.
-ENDS-
 
 
 
Notes to editors: 

For more information
Please contact the No7 Press office on: 0207 025 6677 or email bootsno7team@redconsultancy.com
 
 
*In selected Boots UK stores. To find your nearest store please go to boots.com/storelocator.
**An online module and face to face training session is available upon request to Boots No7 Beauty Advisors, which has been developed in partnership with Boots UK and Macmillan Cancer Support. Both parts of the training must be completed in order to become a Boots Macmillan Beauty Advisor. 
 
***No7 products. The below are just some examples of the different types of products the Boots Macmillan Beauty Advisors will be able to offer advice on:
 
A primer will provide a more even base for yellow and pink skin tones
A foundation with a luminous finish
A mascara with a flexible wand to pick up sparse lashes
An eyebrow pencil or a matte eyeshadow to draw in brows
About the Macmillan Cancer Support and Boots UK partnership
Macmillan Cancer Support and Boots UK are working together to improve the lives of everyone affected by cancer.  Through the partnership, Boots UK is introducing bespoke training for its pharmacists, healthcare colleagues and No7 advisors to help deliver more ways for people affected by cancer to get information and support on the high street, in local communities and online. 
 
About Boots UK
Boots UK is the leading pharmacy-led health and beauty retailer in the UK, with close to 2,500 Boots UK stores and around 60,000 employees. Boots UK's purpose is to help customers look and feel better than they ever thought possible.  Customers are at the heart of the Boots business, which is committed to providing exceptional customer and patient care, be the first choice for pharmacy and healthcare, offer innovative products 'only at Boots' such as the UK's leading skincare brand No7, all delivered with the great value our customers love.  Created over 160 years ago, the Boots brand is still at the heart of the communities it serves.
 
About Macmillan Cancer Support
More than one in three of us will get cancer.  For most of us it will be the toughest fight we ever face. And the feelings of isolation and loneliness that so many people experience make it even harder.  But you don't have to go through it alone.  The Macmillan team is with you every step of the way.  We are the nurses and therapists helping you through treatment.  The experts on the end of the phone.  The advisers telling you which benefits you are entitled to.  The volunteers giving you a hand with the everyday things.  The campaigners improving cancer care.  The community there for you online, any time.  The supporters who make it all possible.
 
Together, we are all Macmillan Cancer Support.
 
About Alliance Boots
Alliance Boots is a leading international, pharmacy-led health and beauty group delivering a range of products and services to customers.  Working in close partnership with manufacturers and pharmacists, we are committed to improving health in the local communities we serve and helping our customers and patients to look and feel their best.  Our focus is on growing our two core businesses: pharmacy-led health and beauty retailing and pharmaceutical wholesaling and distribution, while increasingly developing and internationalising our product brands.
 
Alliance Boots has a presence in more than 25* countries and employs over 108,000* people. Alliance Boots has pharmacy-led health and beauty retail businesses in nine* countries and operates more than 3,100* health and beauty retail stores, of which just over 3,000* have a pharmacy. In addition, Alliance Boots has around 605* optical practices, of which around 190* operate on a franchise basis, and around 390* Hearingcare practices.  Our pharmaceutical wholesale businesses deliver over 4.6 billion* units each year to more than 170,000* pharmacies, doctors, health centres and hospitals from over 370* distribution centres in 20* countries.
 
In June 2012, Alliance Boots announced that it had entered into a strategic partnership with Walgreen Co., the largest drugstore chain in the US, to create the first global pharmacy-led, health and wellbeing enterprise.
 
* Figures are approximations as at 31 March 2013 and include associates and joint ventures.
---
[i]
Macmillan Cancer Support online survey of 100 women living with cancer in the UK. Participants were recruited from Macmillan's online community forum. Fieldwork conducted between August and October 2012. Survey results are unweighted.