It is here....the one we have all been waiting for!
Has someone you know made you feel great this year? You are sure to make them feel good too when they discover this must-have, luxury gift from Boots UK under their tree!
This week's Boots UK Star Gift is the fabulous
Soap and Glory THE YULE MONTY
™
Gift Set
and it can be yours for just 
£27 (was £60!)
from Friday 13 December whilst stocks last. 
Dubbed the  'IT BAG' of the Christmas 2013 season, stuffed with NINE full-size bath, body, beauty bestsellers and 'THE YULE MONTY' is a LIMITED EDITION collectable with print designed by BFC/Vogue Designer Fund winner – Jonathan Saunders. 
To avoid missing out, hurry to Boots UK from Friday 13 December or visit boots.com to purchase this item at this amazing price, as the offer is only available whilst stocks last!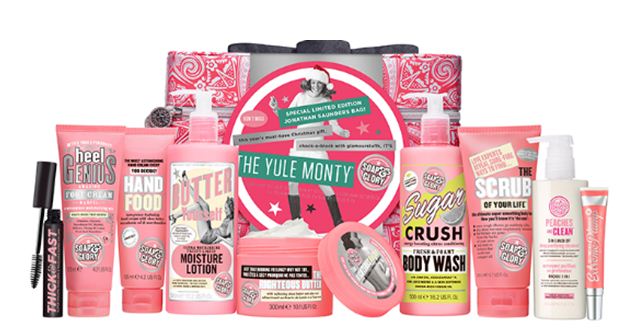 Soap & Glory THE YULE MONTY™ includes:
HAND FOOD™ Hand Cream
SUGAR CRUSH™ Body Wash
THE RIGHTEOUS BUTTER™ Body Butter
PEACHES AND CLEAN™ Deep Purifying Cleanser
HEEL GENIUS™ Foot Cream
BUTTER YOURSELF™ Moisture Lotion
THE SCRUB OF YOUR LIFE™ Body Buffer
THICK & FAST™ Super Volume Mascara
SEXY MOTHER PUCKER™ XL in Pink Out Loud
And that is not all; there are plenty of other Christmas offers to be snapped up in-store or online from Friday 13 December across fragrance, electrical beauty and photo, whilst stocks last.
Great value offers on electrical beauty, fragrance and photo
Philips AquaTouch AT941 Wet & Dry Electric Shaver
Ideal for men who want to enjoy a close and comfortable shave with the versatility of being able to choose whether to shave wet or dry with one device.
 
Better than half price at just £74.99 (was £179.99)
 
Boss Orange Essentials Set
Eau de Toilette 50ml
Body Lotion 100ml
Shower Gel 50ml
Gift with purchase Clutch Bag and an Atomiser Case (empty not with fragrance)
Just £29.50 (was £60.00)
Anker Cream Bevelled Photo Frame
Display your favourite photos with this beautifully designed wooden photo frame. The frame holds a 5x7 inch photo with the mount in place, or a 7x9 inch photo with the mount removed.
Just £9.00 (was £18.00) available in store and online
If that's not all, there is
20% off everything
on BootsPhoto.com for
one week only!
In addition to the Star Gift offers, Boots 3 for 2 Mix & Match now includes more gifts than ever before, such as children's clothing, indulgent bathing, toys and games, photo gifts, celebrity fragrance and toys! 
Customers can now order by 2pm today and pick up in-store from 2pm tomorrow in over 2,300 stores. This new offer means that all stores can be Christmas 'super stores' with access to the full range from even the most rural of areas, as well as offering an alternative to people who live near larger stores who want to avoid the crowds, or don't want to miss out on one of the great value offers. 
The last date to order is
23 December by 2pm
for pre-Christmas delivery.*
Visit Boots.com for more information, and to buy online. 
-ENDS- 
For more information, samples or images, please call the Boots UK Christmas Press Office on 0207 025 6677 or email
bootschristmas@redconsultancy.com
Notes to editors:
This week's 'Star Gift' will be available to customers on boots.com from 0700 hours, Friday 13 December. To ensure the offer is available to all customers, any boots.com shopping baskets containing the product, ahead of this date and time, will be reset.  Offer is available while stocks last.
This offer is not included in our 3 for 2 Mix & Match, from 13 – 20 December 2013 in Boots stores and boots.com.
Normal Boots Advantage card terms and conditions apply. See application form for details.
* Only available to stores open after 2pm on 24 December.
 
About Boots UK
Boots UK is the leading pharmacy-led health and beauty retailer in the UK, with close to 2,500 Boots UK stores and around 60,000 employees. Boots UK's purpose is to help customers look and feel better than they ever thought possible. Customers are at the heart of our business which is committed to providing exceptional customer and patient care, be the first choice for pharmacy and healthcare, offer innovative products 'only at Boots' such as the UK's leading skincare brand No7, all delivered with the great value our customers love. Created over 160 years ago, the Boots brand is still at the heart of the communities it serves. Boots UK is a member of Alliance Boots, a leading international, pharmacy-led health and beauty group delivering a range of products and services to customers. Working in close partnership with manufacturers and pharmacists, Alliance Boots is committed to improving health in the local communities it serves and helping its customers and patients to look and feel their best. Its focus is on growing its two core businesses: pharmacy-led health and beauty retailing and pharmaceutical wholesaling and distribution. Alliance Boots has a presence in more than 25* countries and employs over 108,000* people. Alliance Boots has pharmacy-led health and beauty retail businesses in nine* countries and operates more than 3,100* health and beauty retail stores, of which just over 3,000* have a pharmacy.
 
*Figures are approximate as at 31 March 2013 and include associates and joint ventures