What the Fund can help with
The Boots Benevolent Fund is a registered charity offering support to eligible current and former Boots colleagues in the UK, as well as their immediate relatives and dependants experiencing financial hardship. It can provide eligible applicants with grants, interest-free loans and/or supermarket vouchers for:
Utility, rent and Council tax arrears.
Funeral expenses (including travel costs).
Essential medical aids.
Essential white goods and furniture.
Essential living expenses.
Bankruptcy and debt relief order fees.
Rent and deposit if a colleague is homeless or their health and safety is at risk.
Car repairs in remote locations. 
How the Fund has helped
Yvonne is a colleague who was supported by the Fund when she needed it most. The Fund gave Yvonne support with essential living expenses so she could focus on getting well until she received the all clear.
INSERT-QUOTE-HERE
The Fund helped a colleague with funeral expenses and this is what her line manager had to say about the Fund:
INSERT-QUOTE-HERE
The people behind the Fund
As the Boots Benevolent Fund is a registered charity, it is governed by a board of Trustees who represent all areas of the business. The Trustees have overall control of the charity and are responsible for making sure it's doing what it was set up to do.
A Fund Manager runs the charity on a day to day basis and the Fund Administrators process the applications. There is also a team of volunteers who give their time and skills to support the Fund in numerous ways.



Alan Penhale
Chair




Alice Veldtman
Trustee




Sapana Mody
Trustee




Shezad Alimahomed
Trustee

 


Andy Francis
Trustee

 


Jason Ward
BFF Trustee

 


Emma Vargas Brook
BFF Trustee




Michelle O'Kane
Fund Manager




Lisa Shaxted
Fund Administrator




Carrie Moss
Fund Administrator
The Fund made the world of difference when I was going through chemotherapy. I want to make sure it's there for others when they need it too.
How can I ever thank you? What the Benevolent Fund has done is absolutely amazing and far exceeds anything we had hoped for. The difference it has made to her and her family is indescribable. It's as if an enormous weight has been lifted from her shoulders. To give her such a generous amount towards her mother's funeral was unbelievable in itself but to then give her help to buy groceries as well was above and beyond. It has really brought home to us what the Fund is there for and the difference it can make to people's lives.
History of the Fund
In the early 1900s the 'General Benevolent Fund' was started in the Printing department at Boots as a distress Fund to help in cases of absence from work. Employees considered for benevolent help included those who were absent from work due to illness or domestic reasons and no longer received sick pay, and retired colleagues who had fallen on hard times.
 
The first year of the Boots Group Benevolent Fund, the total income was £339,000 and provided grants and loans of £256,000. In May 1996 the Boots Benevolent Fund became a registered charity. It fundraised by selling t-shirts, baseball hats and lapel badges in order to raise money and awareness of the newly formed Fund.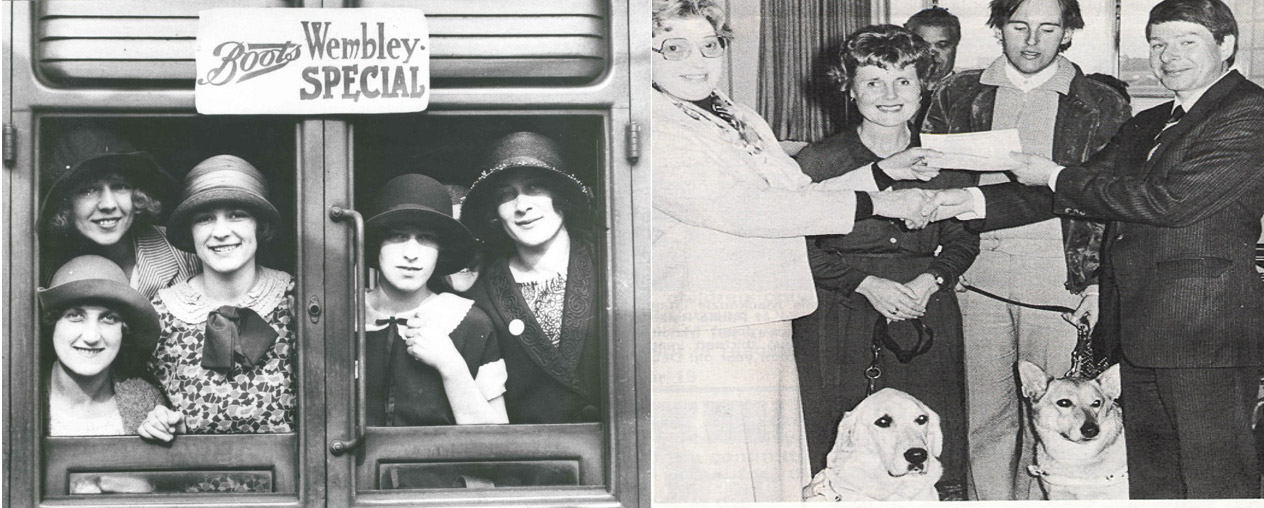 "I wish to say thank you and all connected with the Benevolent for your continued kindness to me in my long illness. I don't know how to thank you enough. Sorry to say I am very ill - been in bed for four years and four months, but still hoping." The Beacon, 1932
Boots Benevolent Fund. Registered Address: 1 Thane Road, D90 West WF18, NG90 1BS Registered in England. Company Number 3053290. Charity Number 1046559