Giving our time to help the community
Boots has a unique place in the heart of the communities it serves across the UK. For over 160 years we've used our pharmacy-led expertise and support to help improve the health and wellbeing of around 2,500 local communities where we have stores and other business operations.
We know our customers think of us as a business that puts something back into the community through our innovative partnerships with national charities and our healthcare specialists, for example. But it's all our brilliant Boots colleagues who enthusiastically volunteer their time and energy that make a real difference locally – they really are the icing on the cake and we're so proud of some of the incredible things they do.
Here are just a few examples of the volunteering activities that we encourage and our colleagues get involved in.
Volunteering for Macmillan Cancer Support
Our close partnership with Macmillan Cancer Support is all about helping to improve the lives of people affected by cancer. Throughout the UK this partnership provides lots of volunteering opportunities for our people through a broad range of practical ways to support the charity and those affected by cancer.
The opportunities include:
Macmillan in Every Community
A volunteer-led scheme that offers practical support to people affected by cancer, Macmillan in Every Community helps those affected by cancer get access to the services they need and to maintain independence and control over their lives. In June 2012 our Boots Macmillan in Every Community volunteer group was recognised for their work when they received the Macmillan Cancer Support Deborah Hutton Award. This award is given to volunteers who provide practical support and care to people affected by cancer.
Cancer Voices
Macmillan set up its Cancer Voices network so that people affected by cancer can use their experience in a range of positive ways. They share their experiences to help shape cancer services and improve cancer care.
Our people get involved in this programme in different ways, including:
joining a hospital's advisory group
reviewing cancer information materials
talking to schools about their cancer experience
campaigning to change cancer policies
telling Macmillan what needs to improve in their area
If you would like to find out more or get involved, please click here.
Event support
Whether they are cheering at marathons, marshalling at our Miles for Macmillan walks, handing out goody bags or serving refreshments at a coffee morning, Boots UK volunteers help make Macmillan events extra special.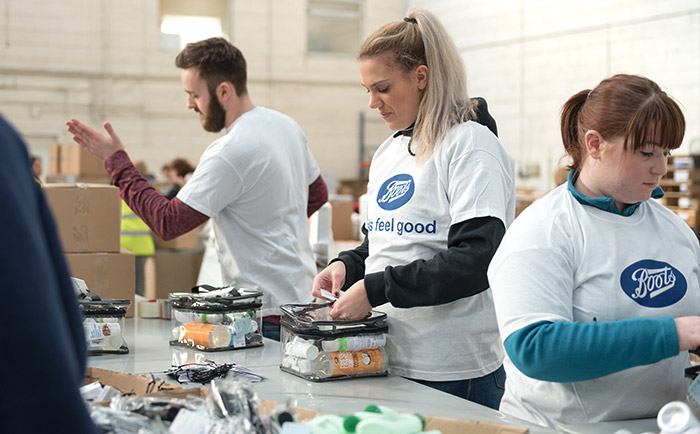 Hundreds of team challenges
Team challenges give our colleagues the opportunity to spend a day in the local community sharing their skills with schools, charities and community groups. And, of course, our people benefit too through developing project management skills, coaching and mentoring experience, or simply helping to build strong, supportive teams. Challenges have included helping to plant new gardens, revamping meeting rooms, organising Christmas parties and renovating community areas.
Look Good Feel Better
Many of our No7 Beauty Advisors give their time and expertise to support "Look Good Feel Better" beauty workshops for women affected by cancer. This is an initiative sponsored by the cosmetics industry.
Our Advisors receive training on how to give advice to people experiencing the visual side effects of cancer treatment, including how to draw on eyebrows and make eyelashes appear thicker for people who have undergone chemotherapy, as well as giving advice on skin changes.
The free sessions take place across the UK.
If you would like more information on the "Look Good Feel Better" programme please click here.